Lyme Lottery
Play Lyme Lottery this Christmas and you could win £1000 to spend on sports products, or up to £25,000!!
Tickets from £1
Support Lifeworks Staffordshire when you play Lyme Lottery - Lyme Lottery
---
Easyfundraising
Please remember to use #easyfundraising when you do your Christmas shopping.
Over 6,000 shops and sites will donate to Lifeworks Staffordshire at no extra cost to you - so you can raise donations when you buy gifts, decorations, your festive food or anything else. #ThisMeansMore than gifts for loved ones, it means donations that help make a difference!
Please sign up and help us raise more at:
Lifeworks Staffordshire Fundraising | Easyfundraising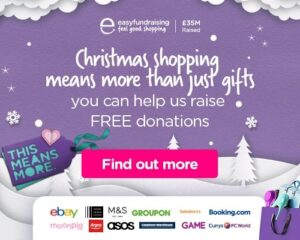 ---
Donate via PayPal
Donate directly to Lifeworks
---
AmazonSmile
You can also donate by shopping at AmazonSmile. smile.amazon.co.uk: You shop. Amazon gives.
---
Thank you for your support!
Have a wonderful Christmas!